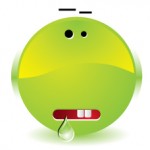 For the last three mornings, I've rolled over and wiped the drool off my face, firmly believing, and even rejoicing that it was Friday. You know what I'm talking about. It's a great feeling until reality punches you in the head. On the third morning I can't help wondering if it's all been a part of some cruel alien abduction experiment. Shit.
Maybe my brain is just telling me what I need to hear, in order to not cry like a little girl at the first sign of daylight. It's been that kind of week. BUSY. Seriously freaking busy. I'm not going to go all dark and sad on you here. This has actually been a great week. I'm getting really positive feedback on this blog thing. Who knew you people would read my dumbass ramble fests? You guys are awesome for spreading the word. I love you. Not like in a drunken frat guy, slobbering on your shoulder kind of I love you. But in a seriously grateful, I totally appreciate your confidence that I won't disappoint you and your friends kind of way. Even though I probably will at some point. Eh…. ya can't win 'em all.
So in addition to attempting to write shit, I run the mommy taxi from hell. 500 miles a week of pure fun. By the time 5pm rolls around, my brain is toast. Fucked up old burned toast. And today is the day I had to pick my daughter up from her weekly class at the South Coast Repertory Theater, at the same time the rest of the world is trying to get home from work. We'll just say, between regular South Coast Metro area work traffic, and performance traffic, the parking structure there is not an easy place to get in and out of. Think fifty rats trying to escape from a dime-sized hole, all at once. We're talking the OC Mom kind of rats. Some of them will chew your fucking leg off. I'm not kidding, people. These women have important shit. They have to get to their mani-pedi touch ups before they race home to instruct their chefs how to prepare their egg whites and grilled salmon for dinner. This is some serious goddamned business. You do not want to get in their way.
By the time we get to the parking attendant, I'm usually consumed by traffic stress and my end-of-the-day brain fog. This week, particularly so. I rolled down my window and handed the attendant my ticket. Realizing his hesitation, I noted that I'd forgotten to also hand him my parking pass. Not really thinking, I asked him if he needed to see my thing. I heard it come out of my mouth, and was as humored as the attendant seemed to be. Because showing my thing has always been so effective for taking care of a myriad of issues in the past. Not really. And getting oneself out of a parking structure doesn't tend to be one of those times when flashing a "thing" is helpful. Nor appropriate. Especially with a 12-year old in the car. And I'd like to say, there are precious few points in time that this would be deemed appropriate. If ever. Particularly at my age. But somehow my brain-to-mouth disconnect thought differently at that moment. It's like the universe is one giant glitter-farting unicorn when shit works out like that. Isn't it?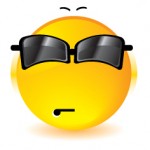 He looked up from his cash drawer. Note, this is not something I've seen him do. Ever. And he made it a point to give me a wink and a smirk. Then he said, "No thanks, I'm good." I'd like to say I was mortified, or even embarrassed. But at that point, I was too tired to care. Plus, I gave him something funny to tell his friends later. And isn't that my point here these days? So I figured I was being productive, even when I wasn't meaning to be. Yay me.
Please share… link backs are blogger crack.