I'm a girl true to my word. It may take me several years and a handful of reminders to get something done. But I've never let anyone down. I don't think. Except maybe that time I promised I'd fix my brother's GI Joe after Barbie ripped his leg off in a fit of wild passion. But maybe other than that I'm squared up with the world.
So a couple of weeks ago I shared Poo-pourri's hysterical promo video. If you haven't seen it, and you'd like to crack yourself up, poo-phemistically speaking, you can find it here.
If you're all caught up, then let's talk poop. I've got a product to dish.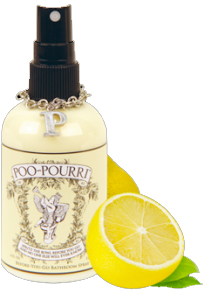 I ordered my Poo-pourri from their website. It was easy and it came in just under a week. If you're in more of a hurry, they have expedited shipping, or you can get it on Amazon with free two-day shipping if you have an Amazon Prime membership. (which on another note, is the greatest value since, like…. ever, if you do much online shopping)
Anyhoooooo…. I bought a bottle of Poo-pourri to give it a shot. I chose the "original scent." For me, it was love a first whiff. The original scent is lemon verbena… my favorite herb in the garden. So, yay me! The scent of the product made me happy as a pig in slop. (And if you've never seen a pig in slop, that's the giddy kind of happy.)
With product in hand, when nature called, I gave it the suggested four squirts into the bowl… the Poo-pourri product, not me. With Poo-pourri in the bowl, I sat down and did a little reading. The product scent was nice, and it did seem to mask, and even "trap," as they claim some of the, ummm, steam. I was pleasantly surprised after washing my hands and emerging from the loo, there was no scented evidence of my business, other than the lovely lingering lemon verbena. I call it a win.
Now if your little astronauts have a longer hang-time before taking the plunge, there may be more odor escape. Or if, heaven forbid, your loaf's been baking for a while, giving it more time to develop its foul bouquet, and built up some gas power, then your cloud will likely hit the air and just mix with the Poo-pourri, creating a questionable scent of lemony-fresh poop. I didn't experience this. But I can see where this could happen. But for me, it was effective.
The real test came with my big ol' stinkers. I'm not going to divulge who it is in my house that smells like death, and whose stench lingers with the hard and fast staying power of the first guy in line at Best Buy on Black Friday. It goes NOwhere. You can throw whatever scented spray you've got at it. But it ends up smelling like cinnamon-dipped poop. Or rose-dipped poop. For hours. These are the poopers who are the true Poo-pourri test. I'm so proud of my family.
Test subject #1, who will remain nameless, gave it the four sprays and set out on the bombing run. This particular tester is courtesy flusher. I was thinking that flushing the product right away might reduce it's effect. But it still seemed to reduce the stench cloud significantly, though not entirely. There are some clouds that refuse to be tamed. But I will say that the smell o'death cleared much more quickly than without Poo-pourri.     Winner.
Test subject #2, is the lingering smell o' death pooper. I've considered building a special outhouse bathroom for this particular one. I'm quite certain that Deathbutt provides such a pungent punch because the stinker refuses to go anywhere but home, and holds it beyond its expiration date. The gaseous brew that comes with subject #2's number twos is so dense, I swear to y'all, I can see it wafting in the air. So I wasn't too sure that Poo-pourri would even put a dent in it.
I suggested that Deathbutt use six sprays into the bowl. The label suggests 4-6 squirts. And six seemed appropriate for this one.  Surprisingly, the angry brew seemed to have been taken down a few notches. It didn't linger quite as long as usual. Although I wouldn't assume this subject could complete a Poo-pourri-assisted stealth bombing run at a party, and get away with it. It definitely helped lessen the grumpy family comments relating to Deathbutt's stink factory. Call me Little Mary Sunshine, but I call that somewhat of a win as well.
Finally, subject #3 used four sprays and emerged from the bathroom, fresh as a bushel of verbena. There was no lingering odor other than the Poo-pourri. I think #3 and I shared the same results. We, and Poo-pourri were the biggest winners. Our other two subjects were questionable. But keep in mind that some people have atomic poop, which will never be tamed. No matter what.
Regardless, I'll still call it a win. I love the original verbena scent, and it worked like a charm for two of us, while helping a bit with the other two. For me, it's worth every penny. Plus it has a money-back guarantee. I figured I couldn't go wrong by trying it out.
Comment below or like the Bullcasm facebook page, and I'll pick a winner to get a free purse spray size Poo-pourri for you to try yourself.
Happy pooping!
Note: I wasn't paid nor supplied with the product for this review.
• • •
Wouldya couldya throw a girl a vote?